Play Street Fighter 2 Turbo Online
Release year: 1993 | Players: 1-2 players | Developed by Capcom
Street Fighter 2 Turbo (SNES)
Street Fighter 2 Turbo (AKA Street Fighter II' Turbo: Hyper Fighting in Japan) is one of the multiple versions of the first 1vs1 fighting game in history of video games: Street Fighter II. SF2 Turbo is a high speed fighting game that introduced high speed playing and new special moves to the original SF2. The concept of the game is easy: Activate turbo, defeat 11 fighters from around the world and become the world champion. Will you be able to defeat M. Bison?
The game, based on the SF2 SNES port, arrived in a powerful 20Mbit cartridge with 12 playable characters with 12 different endings. Characters: Ryu, Ken, E. Honda, Blanka, Guile, Chun Li, Zangief, Dhalsim, Balrog, Vega, Sagat and the final boss M. Bison. Our favorite fighter is Ken!
Sequel: Super Street Fighter II
Choose your favorite fighter and master your martial arts in the more competitive fighting video game, Street Fighter II Turbo, by Capcom, creators of, between others, Mega Man and Resident Evil, Breath of Fire or Final Fight sagas. Shoryuken!
SF2 Turbo Quotes
Ken: Attack me if you dare, I will crush you!
Ken: Get up!! It's too early for you to be defeated!
Ryu: You must defeat my Dragon Punch to stand a chance!
Dhalsim: I will meditate and then destroy you!!
Chun Li: What a wimpy woman! I wonder if there is a much stronger opponent?
Zangief: Next time we meet, I'm gonna break your arms!
M. Bison: Get lost, you can't compare with my powers!
Street Fighter 2 Turbo: Hyper Fighting game has been ported to Super NES (this version), Sega Genesis, Saturn, Sony PlayStation (PSX), Xbox, PS2 and Nintendo Wii. The latest version of SF2 saga is Ultra Street Fighter II for Nintendo Switch.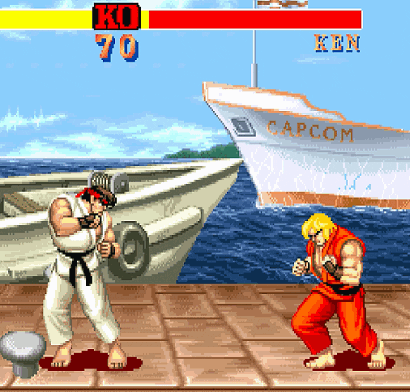 One of the greatest fighting games of all times. Thank you, Capcom!
More info about the game
Join the conversation!
Comments