Play Ninja Gaiden Online
Release year: 1988 | Players: 1 player | Developed by Tecmo
Ninja Gaiden (NES)
Ninja Gaiden (AKA 忍者龍剣伝 or Ninja Ryūkenden) is a side scrolling ninja game for the Nintendo Entertainment System (NES) developed by Tecmo and released in 1988 (Japan), 1989 (USA) and 1991 (Europe). Ninja power!
In the game, which became very popular because of its great plot and its cinematic scenes anime type, you are the ninja Ryū Hayabusa and you must travel to the United States to avenge the death of your father. There, you discover that the evil "Jaquio" plans to free an ancient demon and dominate the world. You have to prevent it at all costs!
Go with Ryū throughout 6 acts (20 action-packed pixel art stages) and use your katana and other weapons, such as shurikens, to destroy all enemies that stand in the way. Will you be able to defeat the final boss of Ninja Gaiden?
To the amazing graphic quality and the frenetic development, we must add a really catchy soundtrack, a high but reasonable difficulty (mostly on the last levels), and a charm difficult to explain in words. Not in vain, it became instantly one of the most desired games of the NES console, and still remains on the lists of favorites of many fans, us included.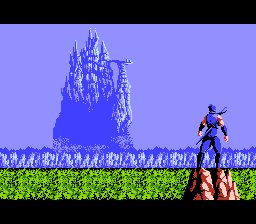 The gameplay is similar to Castlevania, Batman or Super Mario Bros.
Ninja Gaiden game was launched first in Arcade and has been ported to PC Engine, Sega Master System, Game Gear, Super NES, Virtual Console, Game Boy, and smartphones.
More info about the game
Join the conversation!
Comments